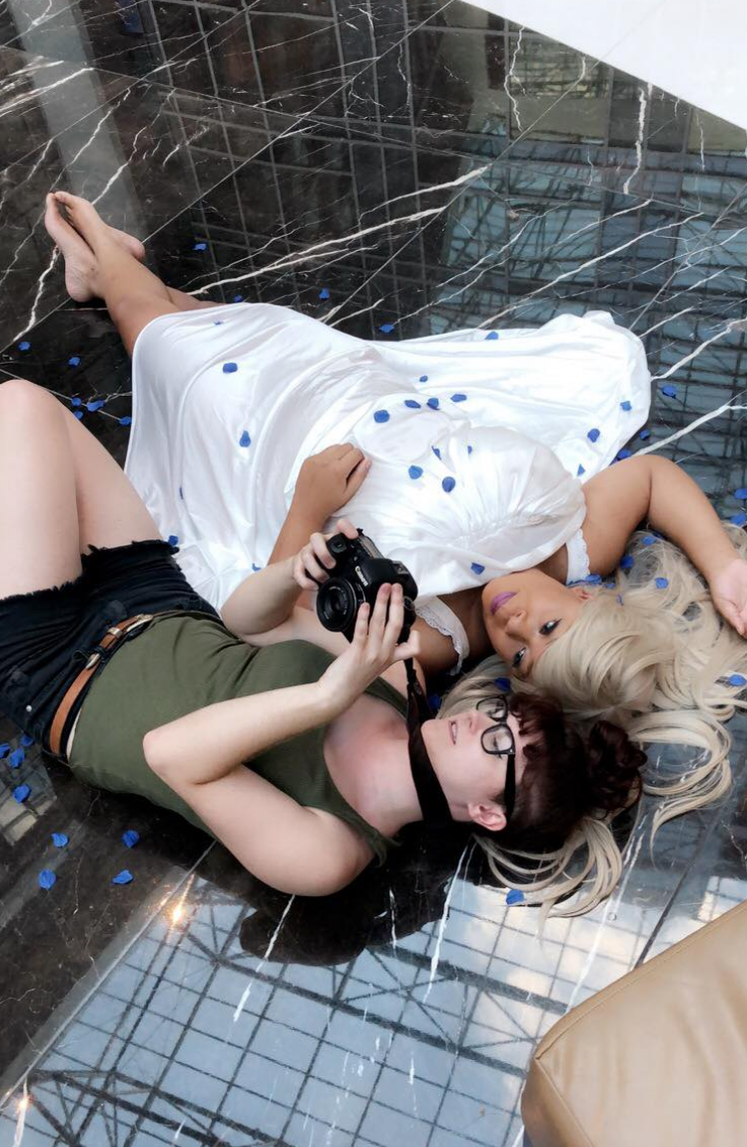 Woah, it's been a hot second since a blog post.
Otakon just happened this past weekend in downtown DC for its second year there, after being a longtime runner in Baltimore. But whether here or there, Otakon stands true to one thing: IT'S HOT.
But despite the trepidation about the temps, I was still looking forward to it. This is my third Otakon and last year I really enjoyed the versatility offered in downtown DC for locations immediate to the con. Even though the heat was a bit of a limitation for both myself and my clients, we still got some amazing images which you can see and read about below.
I'm from Boston so my trip to DC was yet another 9 hour bus ride, but actually it barely felt like 9 hours at all. We pulled into DC around 6pm on Thursday and I stumbled blearily into the Embassy Suites to be greeted by–wait what–free happy hour?!
Yeah, this hotel ruled. I had a tequila sunrise that definitely lifted my spirits.
This year I was also #blessed with a solid rooming situation. I found these two girls through the Otakon 2018 FB group and they ended up being super chill, friendly, and respectful. 10/10 would room with again. After a much needed shower I met up with Cee of Ruinous Cosplay for a chat and before I knew it, it was dark out and I still hadn't gone to scope out for any new locations! So off I went. To get all sweaty again.
Whatever.
I noticed on my taxi ride to the hotel that the library across the street from the con was under construction. That wasn't a huge deal for me, but it did make me wonder about the cos/tog crowds being denser in more desirable shoots areas. I was right. It definitely was cramped. But y'know what? If I can do Katsucon every year and get the images I do, I could do this.
Here's the thing about shooting cons with me: It takes me about half a day to figure out a formula of sorts. When I figure out that formula, I stick to it. Often that means clients are taken to the same places and there is some similarity among finished images. But that really doesn't bother me; people aren't paying me for my photos to be different from everyone else's who also book with me. They're paying for strong images, and if a spot works, I'm gonna plant my butt there and shoot.
Cons do not give time for me to casually experiment. My shoots are short and I need to know what works and what doesn't and every year it's a grab bag with weather, crowds, etc. Even Katsucon, I con I could walk through with my eyes closed, makes me anxious because you never know what the new year is going to bring in terms of crowds and weather that can completely thwart an entire weekend of packed shoots. So once I feel out a con vibe, I discover some new shots and angles for trustworthy locations (could be as generic as I Like This Building or as specific as I Like This Shadow in This Corner at 2pm Let's Go There). Then, it's smooth sailing for the most part!
Usually I try to limit myself to no more than 15 shoots a con, but I overbooked and Saturday I had nine shoots instead of my planned five (oops). Thankfully, I paced myself with one shoot every hour on the hour for the first half of the day, followed by a few back-to-backs to tie it up. In the middle of it all, Cee brought me some food, which really really made my day, lol. The last time I had a helper at a con to make sure I didn't plotz was Katsu 2016. I forgot how nice it is to just have someone bring you a sandwich lmao. Cee is the real MVP (and now I have discovered Potbelly's delicious shakes?!).
Oh, and I even cosplayed myself too! I was Princess Garnet from Final Fantasy IX with Disastertowncosplay's Zidane (he won Best Journeyman for it!), and on Sunday I did a quick chill shoot with my darling Heir Apparent Cosplay as Draco with her Hermione. We both shot with Marie Newby Photography and I'm looking forward to seeing what she captured, even though I'm reeeeeeeally not easy to photograph, lol. Honestly? I don't know how you cosplayers do it. Sure, I have someone who is new to shoots from time to time but even then, it's hard to find someone in this community who is Bad in front of the camera.
I briefly ran into Adoyible Photography/Molly while we were both shooting in the (lovely) Henley Park Hotel. I had never met her before and we ended up chatting for a bit after some shoots and she said something really interesting that struck with me: When doing regular portraiture, people are so much more reserved. It's hard to bring them out. But in cosplay, people are so open. So receptive and eager to portray. It's as though being in costume allows people to bloom in front of a camera. And I thought that was a really beautiful thing Molly brought up. I do really love that about what I do.
A quick ending note: With my wedding photography business picking up, I see cons being on the backburner for me, but I truly owe so much - if not, everything - to credit to cosplay for how I've grown as a photographer and a professional. No, really. I owe everything to this community from the bottom of my heart. And although I desperately want to go to more cons for fun now, and less for work, I'm not sure where to start. It's ironic; I've spent 8 years shooting cosplay but when I want to dip my toe in the community myself, I feel a little intimidated and lost and timid. So, to counter that and hopefully connect with people in a way that I can have some fun at cons too and make new friends, I've finally made an FB for cosplay folks to add me! Please do, I would love to connect!!
Now, onto the photos! These are a select showcase of a fraction of my bookings. Please give these cosplayers a follow. And connect with me too, on IG at chezphotocosplay!
-Riley