ENGAGED

| Yinuo&Jason | Central Park

NYC

& Top of the Rock Engagement Photographer June 2, 2016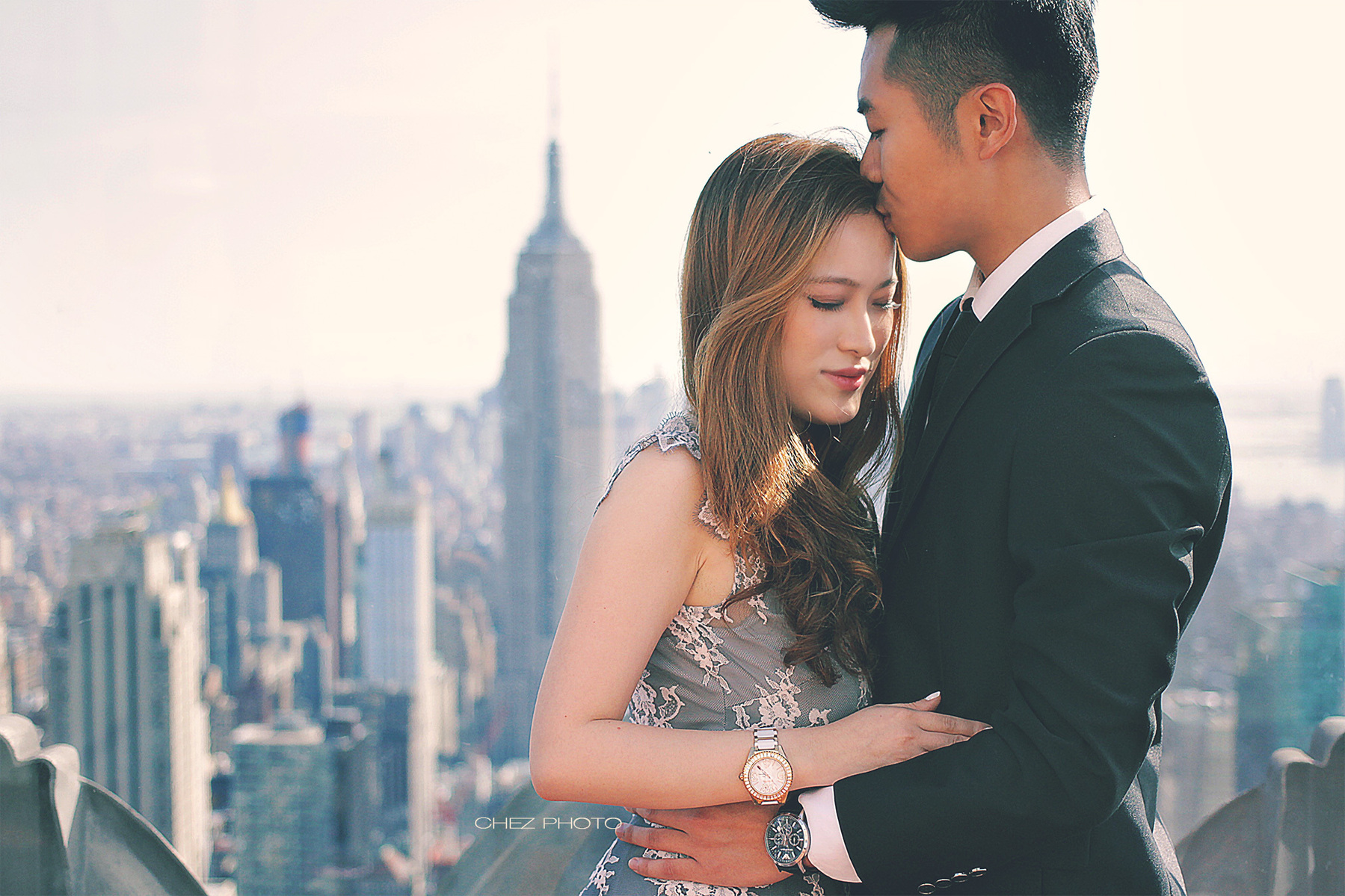 Let's step out of our own world for a moment and into Vogue with this editorial-inspired, highly stylized engagement shoot of the most fashionable girl I know and her devilishly handsome, sharply-dressed husband-to-be. Yinuo and Jason met during grad school at NYU–and funnily enough, they are both from the same city in China: Wenzhou. And, to answer everyone's questions - no, they aren't working in NYC as models…they just happen to look picture-perfect all the time.
This engagement shoot is incredibly special to me, and let me tell you why:

Yinuo has been in front of my lens since I first picked up a camera in 2009. It was my senior year of high school, and I had just discovered my passion–photographing people, specifically portraits and fashion. She was one of my first muses, and I've only had a handful throughout my life so far. Yinuo and I would head out after school and wander into huge fields laden with the golden light of the setting sun, or weave through the trees in the forests of New Hampshire, to take portraits that I didn't even know I could take–she was always up for any crazy photo adventure idea I had, and she helped me become used to photographing people and giving artistic direction. My photos of her have won local and national awards. Some of my favorite works are of her, and so when she asked me 7 years later to photograph her engagement with Jason, I couldn't have been more thrilled at the thought. Conveniently enough I was already in Boston working with clients, so heading to NYC was just a ride away. I just love New York late April! It's my favorite time of year to be there.
To be honest, I was really nervous about shooting these two at 30 Rock. It was a gorgeous, warm day in Manhattan after a week of rain. Spring was in the air. Not a cloud was in the sky. What was there to worry about? Well–the top of Rockefeller Center on a perfect Saturday afternoon was what to worry about. I had no idea what to expect with the crowds…it took me ages just to get in line and meet Y&J at the top. But I kept my cool; after all, I photograph artists and their costumes at conventions that harbor anywhere from 15,000-60,000 people nearly every other month…I'm used to crowds. But still, New York is a different ballpark in many regards. So, I held my breath on the long elevator ride up 850 feet, and knew that I had to be straightforward and patient with asking sightseeing folks to step aside while I shot.
To say my worries were for nothing would be an understatement–this shoot was a breeze (and not just because I was up 70 stories in the air). Sightseers were more than cooperative with moving out of the way, stepping aside and giving room for me to shoot, and even shouting congratulations and cheering for Yinuo and Jason! It was so cute, and very unexpected. To think I was ready to clamber over incessant crowds to get a shot that would still be littered with people–such was not the case! It's funny how my years of experience shooting conventions translated so well into this shoot; I didn't feel nervous or awkward at all letting people know that we were shooting an engagement. It was such a weight lifted off my shoulders so quickly, that it made the rest of the shoot at Top of the Rock go very smoothly. I was simply ecstatic at the images I was getting. Yinuo and Jason were SO incredibly beautiful together, too–but you don't need me to tell you that. See for yourself.
After our adventures at Top of the Rock, we took a quick intermission before heading over to Central Park at the entrance to Strawberry Fields. Despite the massive array of beautiful sites Central Park has to offer, the areas around W 72nd offered the best of the best. I knew this part of the shoot would be my favorite, as my specialty is emotive portraiture intertwined with elements of nature. That's been my niche since seemingly day 1 of picking up a camera and it's stuck with me ever since. Yinuo, having been a resident of my lens before, knew this about me and was equally excited.
With the pond, the iconic Bow Bridge and proximity to Bethesda Fountain, this area had everything any couple could want in their ideal Central Park engagement session.
Or should I say every couple? Tons of photographers were out with their clients on this beautiful day! I loved seeing all the happy couples – especially some of the dresses the girls were wearing. But I gotta say, I think I had the prettiest clients. Haha. Just look at these two!
I'm obsessed with the light against Yinuo's hair in that last photo! She's like a beautiful doll. And Jason's hair isn't to be ignored, either–sharp and stylized! Neither of them spared a detail in their immaculate presentation. I knew they wouldn't disappoint.
As the shoot wrapped up, we happened upon this beautiful horse-drawn carriage that Yinuo fell in love with. It was the perfect backdrop to tie together this fairy-tale engagement session.
It was pretty surreal to be the photographer for Yinuo and Jason's engagement before they fly off to China to get married. I'm so thrilled with the results we got and I can't wait to do more photoshoots like this in the future.
I am now booking for Fall engagements in NYC and Boston. Please contact me if interested.