Hi! I'm Riley and I run CHEZPHOTO. I've been doing cosplay photography since 2010, honing in on cosplayers who want to invest in a truly custom experience. Whether you are familiar with being a model, or have never even stepped in front of a formal lens before as a cosplayer, let's work together to get the shot you want!
KATSUCON SHOOTS ARE SOLD OUT.
You can inquire to work with me on-location in the Boston area, or follow me on Instagram to see when booking opens for the following:
-Seattle area on-location (March 22-27)
Anime Boston
-Yeticon
-Colossalcon
-Otakon
-Dragoncon




What makes shooting with me different?


-Your cosplay. Your work. Your pictures. Your choice. I allow all clients the freedom to choose their edits out of the top images I pick from the shoot in a private proofing gallery. It is my job for you to be happy with your images; I am not you, and you know what image you feel best in. I want you to come out of our collaboration feeling amazing and so proud of your talent and portrayal of your character. That's why I let you pick.
-I don't just "show up and take pictures and leave" and everyone who books with me comes to know that, either by following my work for years or by referral. With me, it's not just a photoshoot. It's an experience. You will feel that when you work with me and see the results - I do what I love, I love what I do, and I have a huge respect for the talent of cosplayers, their drive, and their constant creativity that pushes boundaries.
-What are you most proud of? What did you work the hardest on? What really makes you brim with pride when you put this on and look in the mirror? Let's talk. I am a seasoned professional in the cosplay industry, nearing on a decade of doing this type of work. I take great care in making sure you are comfortable, relaxed, and that your costume is looking its best. Before the shoot we will be in contact to discuss your goals and ideal images you want.
What is my style?
What you see is what you get. Please take a look at my website and my IG (chezphotocosplay) to see the kind of work I produce. I consider my images to have a natural feel to them. My editing style is simplistic, and I strive to put the emphasis on your craftsmanship. I enjoy "looking off into the distance" shots and those "lie down on the floor because I said so" shots. With a background in fashion and portraiture, I usually have my images leaning towards an "editorial" vibe, showcasing both your work and making sure it's flattering for you as a model.
My sessions are short. I know. Why? I work quick. By now I know how long it takes to get the right shots. I'm an encyclopedia of poses and know my locations well before the shoot so we aren't wasting time trekking to and fro.
You came to the con to have fun, not hike around for an hour in your costume looking for the right shot.
KATSUCON SHOOTS ARE SOLD OUT.
Policies
Once you're approved, payment must be made in full through PayPal within 12 hours, before the timeslot you requested is open again for the public's request.

PUBLISHING
You have full ONLINE publishing rights to all edited images (ones that are included in your package and any extras you order). You may NOT publish any screenshots from the private proofing gallery before edits are delivered or you will not receive your edits.
You must credit me by tagging my page depending on what social media outlet you use. Here are my links so you can @ me under a photo caption.
Instagram: chezphotocosplay
Twitter: chezphoto
Do NOT crop my images in instagram. There is no excuse for it anymore with tons of apps to help frame an image in full - my photos are not to be published in a square format. Use an app like Whitagram to display the image in full.
LATE/CANCELLATIONS
If you are late to a shoot, whether from elevator issues, costume malfunctions, group delays - the amount of time you're late is deducted from your shoot. Example--if your shoot is from 1PM-120PM and you meet me at 115PM, we are still shooting only until 120PM.
I have been doing this for going on 9 years--I know that cosplay can cause last minute hiccups. Please bear in mind my cancellation policy is very strict.
If you cancel within five days of payment you are granted a full refund. Any further than that is non-refundable. I understand my policy is strict - so please be sure of your travel and room plans, as well as making this clear to ANYONE in your group.
If you need to reschedule your shoot at a later con, there is a 50% rescheduling fee.
EDITS
Within one week of the convention end date, you will receive a private gallery with small watermarked images from the shoot - you will then choose your favorites, email me the file names, and I will make them perfect for you, full-size. Edits are delivered 6 weeks after you email me your selects.
If you're reading this far, you probably have seen my work a few times - in that light, you may have noticed I am a bit of a minimalist. I'm a completely natural light shooter and no longer do shoots after dark. I do not add special effects, superpowers, superimposed backgrounds, and I do not photoshop people out of the background (I just ask them to move). Basically, I don't do anything to adjust the original integrity of the photo. There are plenty of other photogs who do it and do it well--but I am not the photog for you if you're looking for a more manipulated image.
I do, however:
Clear up skin, makeup, wig flyaways, adjust color/tone/overall 'feel' of the image, bring out costume details, etc... basically, what you see is what you get from my portfolio. So take a look closely at my galleries and if you like what you see, then I'm the gal for you!
TESTIMONIALS - Read more on my IG, chezphotocosplay.
Testimonial, Coffee Cat Cosplay
'I've worked with Riley a few times now and she is just so FANTASTIC. Always on time and really good with communication. She helped us with posing and really used the most of our time that we had with her. Both times we shot together I had a large group. She's great and being able to handle large groups of people as well.
Definitely one of my favorite photographers to work with!"
Testimonial, TheBlackBard

"The things she captures on her photos, be it fashion, cosplay, or simple artistic expression all carry a high level of skill and passion are brilliant.
I worked with her on my first cosplay photo-shoot and they are still the most powerful shots I have of my cosplay work today. I got my edited photos back very quickly and during the photo-shoot her high energy was contagious.
She understands fashion, art and cosplay. And understands what we want to highlight and communicate. I think that is what makes her eye so special.
Cant wait to work with her again!"
Testimonial, Jobielee
"Riley was amazing to work with. I had the opportunity to shoot twice with her at Katsucon 2016. Fantastic at giving direction to make sure you look the best in the photos and really comfortable to be around which helps you relax for photos. I love that she allows you to select what photos you would like edited, so you have some input and get to select what you like. I really can't say enough positive things about her. So book a shoot with her already!
Testimonial, minkthesatyr
"Boy was I blown away by ChezPhoto's work! I had seen a lot of her work prior to booking with her, so I knew that I could expect high quality and professionalism. Riley sure delivered! Riley was very flexible in working with me and a large cosplay group. She was a positive person to work with individually and really exuded a good energy. Her enthusiasm working with my large cosplay group was infectious. It put everyone at ease. She clearly knew how to work with people who've had a variety of modeling experience ranging from frequent to none at all.
I would 100% work with her again (and she knows that). I really can't sing her praises harder and I am extremely happy with the resultant shots and edits! Simply wonderful!"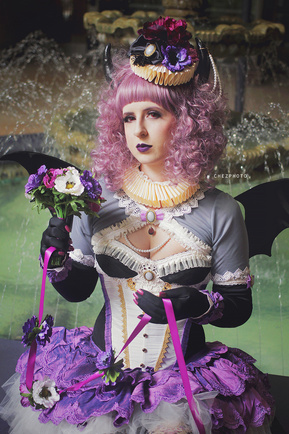 Testimonial, ms_silverfox
"Riley is wonderful to work with even if it's only for a little while. She was very enthusiastic to work with everyone in our group. She also was great at giving direction when needed, which I highly appreciate. I would absolutely love to work with her again in the future. I can't wait to see how the photos turned out!"
Testimonial, Guhzoontight
"I worked with Riley just today! Things were going wrong with my cosplay and she was super nice and even carried my prop for me. I'm so excited to see the photos cause what she showed me LOOKED AMAZING. I felt super comfortable with her and though I'm not the best with posing she was super helpful. I'd love to work with her again and highly recommend her for anyone."
Thanks for reading--hope to hear from you!